Can't beat a good hard back!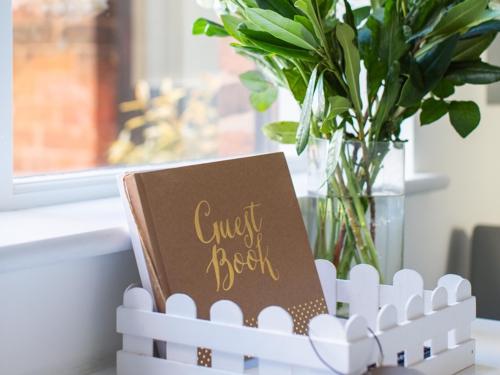 On line reviews are extremely helpful when deciding where to book your stay and to give you confidence the property is to your expectation.
At Chapel Chester we are always to delighted to read your online post stay review and are very proud of the high ranking score we continue to maintain.
We do however get great pleasure when reading your hand written guest review too. Each apartment is furnished with its own hard copy guest book, it's become a great read for all guests learning where other guests have come from, why they were staying and what they enjoyed. Some apartments are now on their second book!
We often find them left on the bed side table so clearly makes a good night time read.
Let's not let the digital age take over and keep up the pen to paper.
' You can't beat a good hard back'
Here comes The Chapel Chester Bride!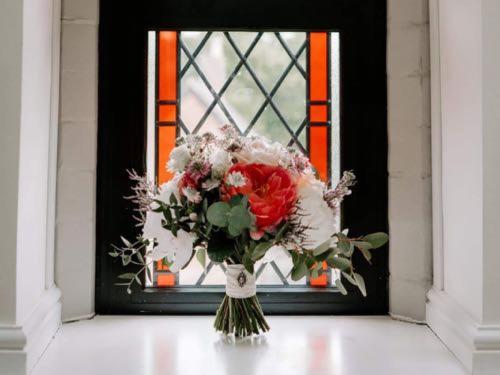 We have been delighted to host many brides and grooms to The Chapel in 2018. Many have chosen such beautiful venues as Chester Cathedral, Chester Town Hall & Delamere Manor for their wedding ceremony and celebration.
Chapel Chester has proved to be successful for the pre wedding preparations for the bride and bridesmaids. The Penthouse mezzanine perfectly transforms into a salon for the make up artist and hairdresser and The Chapel gardens makes perfect backdrop for the pre ceremony photography.
All brides to date have also had beautiful Chester sunshine! Brides have been collected in all types of transport from a VW campervans to vintage Rolls Royce. If you need assistance planning your special day we are more than happy to assist you.
It's proud parents week!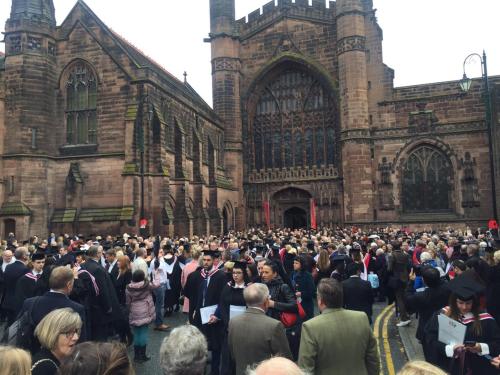 We love graduation week at Chapel Chester!
The Chapel walls are bursting with pride as parents and extended families travel far and wide for the joyous occassion.
For many parents it feels like only yesterday when their eighteen year old child entered their first year halls of residence and now they're all back in the city, dad all suited and booted and mum suitably dressed to impress. Their mature eighteen year old finely dressed in their cap and gown leads them towards Chester cathedral for the awards ceremony.
The city has fabulous vibe as graduates gather in their cap and gowns in coffee shop from early morning. Celebrations continue to more glamorous venues such as Opera Grill and Oddfellows for lunch and evening dinners. How convenient, the Chapel just minutes walk from all of the fine restaurants.
Remember if your graduating be sure to book ahead, often the ceremony dates can change so we try to be as flexible as possible if that does happen.
Congratulations to all and parents wallow the glory!
Chapel Chester Short Listed for Best Self Catering in Cheshire 2018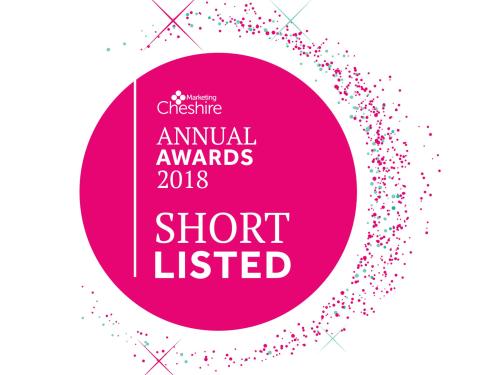 Chapel Chester is delighted to be once again short listed for the Marketing Cheshire Annual Awards in the category of 'Best self catering provider'.

Katrina Michel, Chief Executive, Marketing Cheshire, said: "Cheshire is home to globally recognised tourist brands and tourism professionals who are world class. This year's talented nominations continue to display the passion, commitment and inspiration that is the driving force behind Cheshire's rising economy and visitor numbers. Marketing Cheshire's Annual Award Ceremony is a great way to recognise and celebrate these achievements."

The awards celebrate excellence and outstanding achievement by local businesses and individuals with the winners of some categories going on to represent Cheshire at other national awards. The winners will be announced at a glittering ceremony at Cheshire's Carden Park Hotel on Thursday 13 September. Fingers crossed!
A Royal Visit for Storyhouse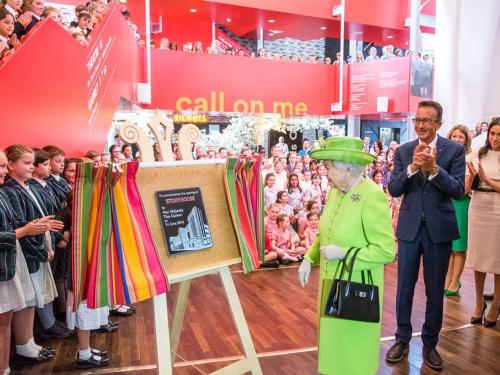 We were truly honoured The Queen and Duchess of Sussex attended their first formal engagement together in Chester on the 14th June.
Her Majesty and newly married Megan officially opened Chester's Storyhouse Theatre followed by a luncheon at The Town Hall.
Thousands gathered in the city and were already waiting at the venues hours before the royal pair arrived, with stalls set up on the streets selling flags and souvenirs.
The Queen, wearing green in honour of Grenfell tower tragedy held a minutes silence along with the thousands of crowds at 11am.

It was a joyous afternoon in Chester for those who had taken to the streets with the hope of seeing the Queen and her granddaughter-in-law. Just before the royal party left the Storyhouse, the sun broke through the clouds much to the delight of the waiting crowds.
There were huge cheers as the Queen took to one side of the crowd and the Duchess to the other.
Meghan seemed like a natural in her new royal role and looked genuinely happy as she stopped to chat and shake hands with those assembled; many of them hadn't expected she would have time to speak to them and were visibly moved.
A truly a day to remember in Chester - well done Storyhouse!
Guest Review Award from Booking.com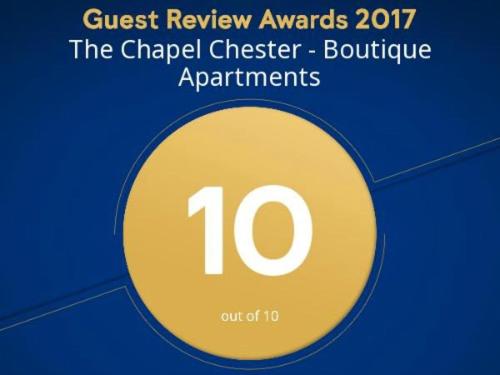 Chapel Chester received highest mark possibile in the Booking.com Guest review awards.

In January 2018 Booking.com, the global leader in connecting travellers with the widest choice of incredible places to stay, honoured its accommodation partners that consistently deliver great guest experiences with a 2017 Guest Review Award.
For the first time, apartments took the lead from hotels as the top-awarded accommodation type, making up 30% of the award-winning properties in 2017.
Interestingly, this continuing consumer interest in unique accommodation experiences is echoed by recent research that Booking.com conducted with 19,000 travellers across 26 countries, where one in three (33%) said that they would prefer to stay in a holiday rental over a hotel in 2018.

In the UK, 21,655 properties, from all types, received the award, with an overall average guest review score of 8.9. In addition, 194 properties achieved a perfect 10 score, demonstrating their dedication to offering an unforgettable stay.
As quoted by Booking.com "With these awards, we congratulate, thank and honour a unique set of real hospitality heroes—our partners—who dedicate themselves to creating incredible guest experiences and cherished travel memories for travellers each and every day."

Nice pat on the back ChapelChester.com!
Chapel Chester partners with Coolstays.com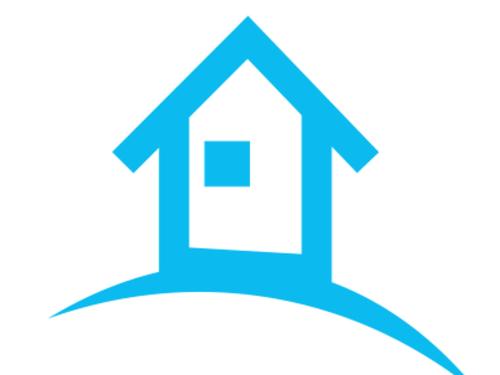 ChapelChester.com was delighted to be partner with Coolstays.com. If you have never visted this site it is a must if you like 'cool places to stay'.
The site showcases unique and unusual places to stay across the UK, Europe and worldwide.
As quoted by Coolstays 'tired of the difficult search for that perfect stay, we have made it our mission to find you that special place with a difference. We now have a growing portfolio of over 1100 hand-picked, extraordinary places to stay. Each offering something truly quirky, noteworthy or stylish'.
There cccommodation includes glamping options such as gypsy caravans, shepherds huts, tipis, yurts, tents and cabins; luxury tree houses and cave houses; cool conversions such as planes, trains, boats, buses, churches, windmills, lighthouses and deluxe beach huts; as well as the coolest quintessential cottages, villas, B&Bs and boutique hotels. "Stay somewhere extraordinary!"
We love the write up on ChapelChester - take a look!
https://www.coolstays.com/property/chapel-chester/19280
Inspected and Selected by Sawday's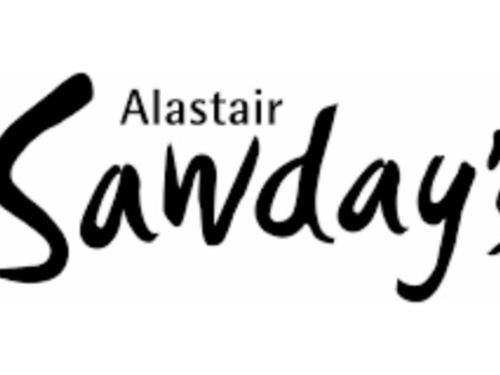 Looking for somewhere special to stay? You will find it on Sawdays!
Following an inspection in late 2017 ChapelChester.com was delighted to invited to join the Sawdays family of finely curated and selected properties which are listed both in the UK and overseas.
Set up nearly two decades ago by Alastair Sawdays the insepectors look for 'authenticity, warmth and character, places that embody the slow life and where hours of love have been poured into the tiniest detail to create those simple, personal joys that make something truly special'

We feel ChapelChester.com feels right at home on this beautiful site.
Chapel Chester Short Listed for their First Award!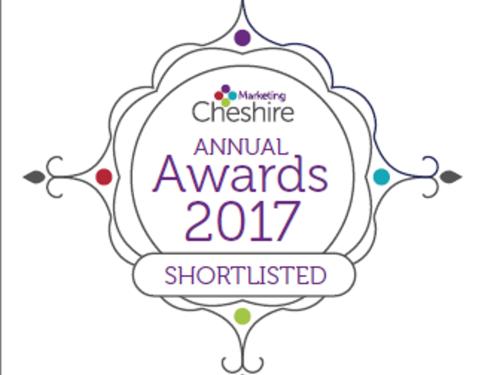 ChapelChester was delighted to be short-listed for their first tourism award in the category 'Best self - catering provider in Cheshire'. A huge accolade when our first guest checked in less than 6 months.
Organised by Marketing Cheshire the 13th Annual Awards celebrate excellence and outstanding achievement by local businesses and individuals within tourism sector of Cheshire.